---
Union Headquarters monuments > 3rd Corps > 1st Division
---
The monument to the 3rd Brigade of the 1st Division of the 3rd Corps is south of Gettysburg on Sickles Avenue in the Wheatfield. (Tour map: DeTrobriand Avenue – The Wheatfield)
The brigade was commanded at the Battle of Gettysburg by Philippe Régis Denis de Keredern de Trobriand, a French aristocrat who had married an American and settled in New York.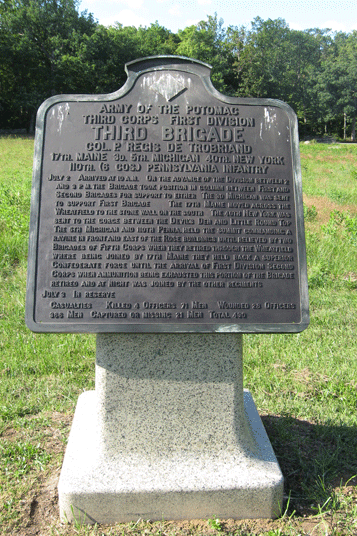 From the monument:
Army of the Potomac
Third Corps First Division 
Third Brigade 
Col. P Regis De Trobriand
17th Maine 3d 5th Michigan 40th NewYork
110th (6 Cos.) Pennsylvania Infantry
July 2. Arrived at 10 A. M. On the advance of the Division between 2 and 3 P. M. the Brigade took position in column between First and Second Brigades for support to either. The Third Michigan was sent to support First Brigade. The 17th Maine moved across the Wheatfield to the stone wall on the south. The 40th New York was sent to the gorge between the Devil's Den and Little Round Top. The 5th Michigan and 110th Penna. held the summit commanding a ravine in front and east of the Rose buildings until relieved by two Brigades of Fifth Corps when they retired through the Wheatfield where being joined by 17th Maine they held back a superior Confederate force until the arrival of First Division Second Corps when ammunition being exhausted this portion of the Brigade retired and at night was joined by the other regiments.
July 3. In reserve.
Casualties Killed 4 Officers 71 Men Wounded 28 Officers 366 men Captured or Missing 21 Men Total 490