---
Confederate Artillery Batteries
---
Company C, 1st North Carolina Artillery Regiment
The marker for the Charlotte (North Carolina) Artillery is southwest of Gettysburg on West Confederate Avenue. (Tour map: West Confederate Avenue – Pt. 2) The battery was commanded at the Battle of Gettysburg by Captain Joseph Graham.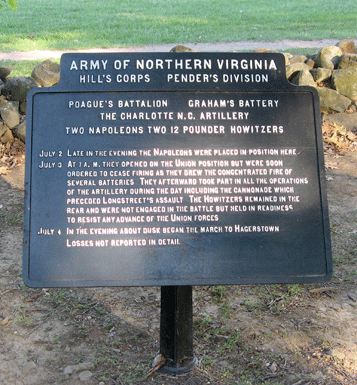 Text from the marker:
Army of Northern Virginia 
Hill's Corps Pender's Division 
Poague's Battalion Graham's Battery
The Charlotte N. C. Artillery
Two Napoleons Two 12 Pounder Howitzers
July 2. Late in the evening the Napoleons were placed in position here.
July 3. At 7 A. M. they opened on the Union position but were soon ordered to cease firing as they drew concentrated fire of several batteries. They afterward took part in all the operations of the artillery during the day including the cannonade which preceded Longstreet's assault. The Howitzers remained in the rear and were not engaged in the battle but held in readiness to resist any advance of the Union forces.
July 4. In the evening about dusk began the march to Hagerstown.
Losses not reported in detail.
See more on the history of Company C, 1st North Carolina Artillery Regiment (Charlotte Artillery) in the Civil War