---
Union monuments at Gettysburg > Ohio 
---
The monument to the 6th Ohio Cavalry Regiment is south of Gettysburg on Taneytown Road at the Hummelbaugh Farm (Pleasonton Avenue tour map)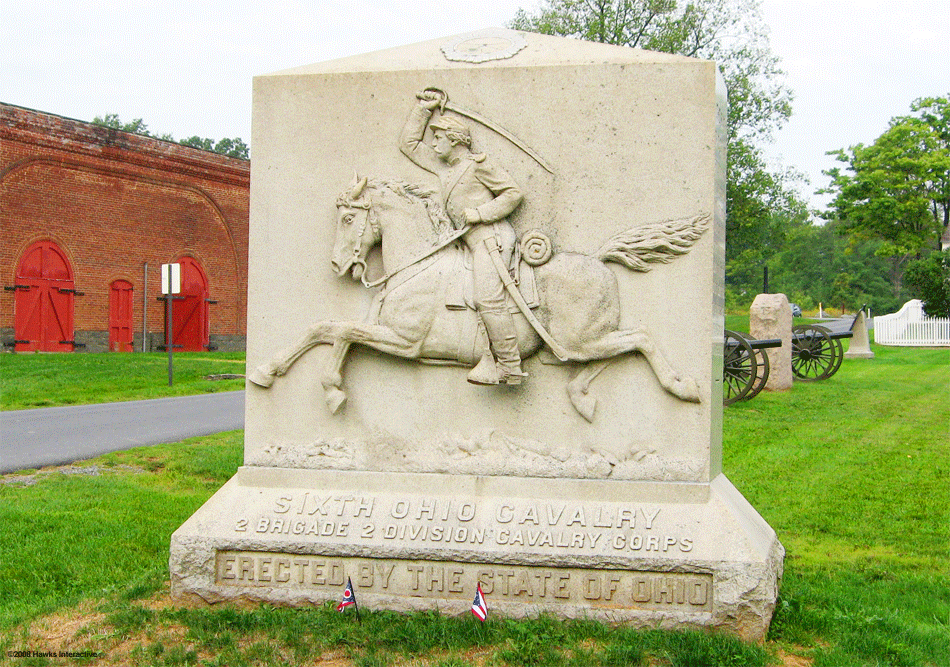 Major William Stedman commanded the 6th Ohio Cavalry during the Gettysburg Campaign. It consisted of 391 men in ten companies (A-E, G-I, and K-L). The regiment suffered no casualties in the battle. It was not on the Gettysburg battlefield, but was on detached duty with the rest of Colonel Pennock Huey's brigade guarding supply and ammunition trains at Westminster, Maryland.
From the front of the monument:
Sixth Ohio Cavalry
2 Brigade 2 Division Cavalry Corps
Erected by the State of Ohio
From the rear of the monument:
Sixth Ohio Cavalry
—-
Organized at Warren, Ohio Dec. 14, 1861
Served with the National Armies in Virginia under
Bayard, Buford, Pleasonton
Kilpatrick, Gregg, Smith
Crook and Sheridan.
Its Veteran Companies reenlisted January 1864.
Mustered out Aug. 7, 1865.
From the left side of the monument:
The Sixth Ohio Cavalry served during the Gettysburg Campaign  with Huey's Brigade, taking part in several severe engagements.  During the battle of Gettysburg, it was on detached service with the brigade at Manchester, Md.
From the right side of the monument:
Principal engagements
—-
Cross Keys
Groveton
Kelly's Ford, 1863
Stoneman's Raid, 1863
Aldie
Upperville
Gettysburg Campaign
Mine Run
Auburn
Bristoe Station
Wilderness
Sheridan's Raids, 1864
Cold Harbor
Malvern Hill, 1864
Mitchell's Shop
Haws Shop
Boydton Plank Road
Dinwiddie C.H.
Sailor's Creek
Appomattox C.H.
Location of the monument to the 6th Ohio Cavalry
The monument to the 6th Ohio Cavalry is south of Gettysburg on the side of Taneytown Road just north of Pleasonton Avenue. (39°48'28.3″N 77°13'50.2″W)
See more information about the history of the 6th Ohio Volunteer Cavalry Regiment during the Civil War