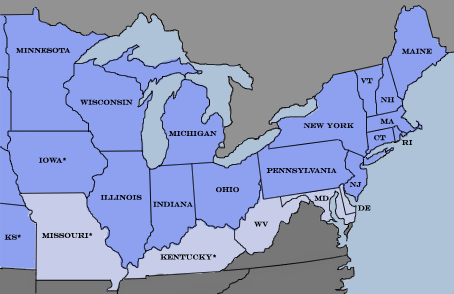 See the monuments from a state by clicking the map or selecting from the list below.
Connecticut – Delaware – Illinois – Indiana – Maine – Maryland – Massachusetts – Michigan – Minnesota – New Hampshire – New Jersey – New York – Ohio – Pennsylvania – Rhode Island – Vermont – West Virginia – Wisconsin
– United States Regulars
Regiments and batteries from eighteen northern states as well as a large contingent from the United States Regular Army made up the the Army of the Potomac at Gettysburg. Iowa, Kansas, Kentucky and Missouri were the only Northern states not represented.  (see the States at Gettysburg) Almost every one of the several hundred Union regiments and batteries at the Gettysburg has a monument.
A unit's main monument was required to be placed at the location of its main line of battle. Many have a secondary monument or smaller markers showing different locations where the unit fought. A unit was to also have flank markers showing the approximate extent of the unit's line. Most of these were small, but some were more substantial.
Some regiments from the same state share a monument. In a few cases a monument honors an entire brigade of regiments from the same state. Several states have erected a monument honoring all the men from that state who fought at Gettysburg. There are also a small number of monuments honoring units who played an important part in the campaign but were not actually at Gettysburg.