---
Union monuments at Gettysburg > New York > Artillery & Engineers
---
The monument to the 15th New York Independent Battery is south of Gettysburg on Wheatfield Road across from the Peach Orchard. (Sickles Avenue at Excelsior Field tour map) It was dedicated by the State of New York in 1888. A marker is also on South Hancock Avenue. (Hancock Avenue Part 1 tour map)
The battery was commanded at the Battle of Gettysburg by Captain Patrick Hart. He was wounded on July 3rd, and Lieutenant Edward M. Knox then took command of the battery. It brought 99 men to the field.
| | |
| --- | --- |
| | Second Lieutenant Edward M. Knox was awarded the Medal of Honor for his actions at Gettysburg on July 2nd, when he "held his ground with the battery after the other batteries had fallen back until compelled to draw his piece off by hand; he was severely wounded." |
From the front of the Wheatfield Road monument
15th N.Y. Battery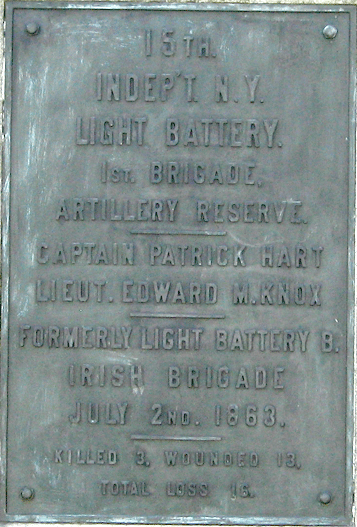 From the tablet on the rear of the monument
15th Indep't. N.Y.
Light Battery. 1st. Brigade
Artillery Reserve
—-
Captain Patrick Hart
Lieut. Edward M. Knox.
—-
Formerly Light Battery B
Irish Brigade
July 2nd. 1863
—-
Killed 3, wounded 13
Total loss 16
From the marker on Hancock Avenue
Army of the Potomac
First Brigade Artillery Reserve
New York Light Artillery
15th Battery
Four 12 Pounders
Captain Patrick Hart Commanding
July 2. Engaged in the Peach Orchard. Retired about dark and reported to Brig. General R.O. Tyler Artillery Reserve.
July 3. Ordered early to the front and took position in the battalion on the left of Battery E, 5th Massachusetts. Directed by Maj. General Hancock to open on the Confederate batteries with solid shot and shell. Upon the advance of the Confederate infantry, fired shell and shrapnel and canister when the line was within 500 yards. A second line advancing was met with double canister which dispersed it. The fire of the battery was then directed against the artillery on the Confederate right and several caissons and limbers were exploded by the shells.
July 4. Remained in this position until noon.
Casualties: Killed 3 men; Wounded 2 officers and 11 men; Total 16
Location of the monument to the 15th Independent Battery at Gettysburg
The monument to the 15th New York Battery is south of Gettysburg on the north side of Wheatfield Avenue 190 yards east of Emmitsburg Road. (39°48'03.8″N 77°14'53.4″W)
See more on history of the 15th Independent Battery, New York Light Artillery in the Civil War