---
Confederate Headquarters Markers
---
The monument to Stuart's Cavalry Division is on the East Cavalry Field on Confederate Cavalry Avenue. (East Cavalry Battlefield – north tour map)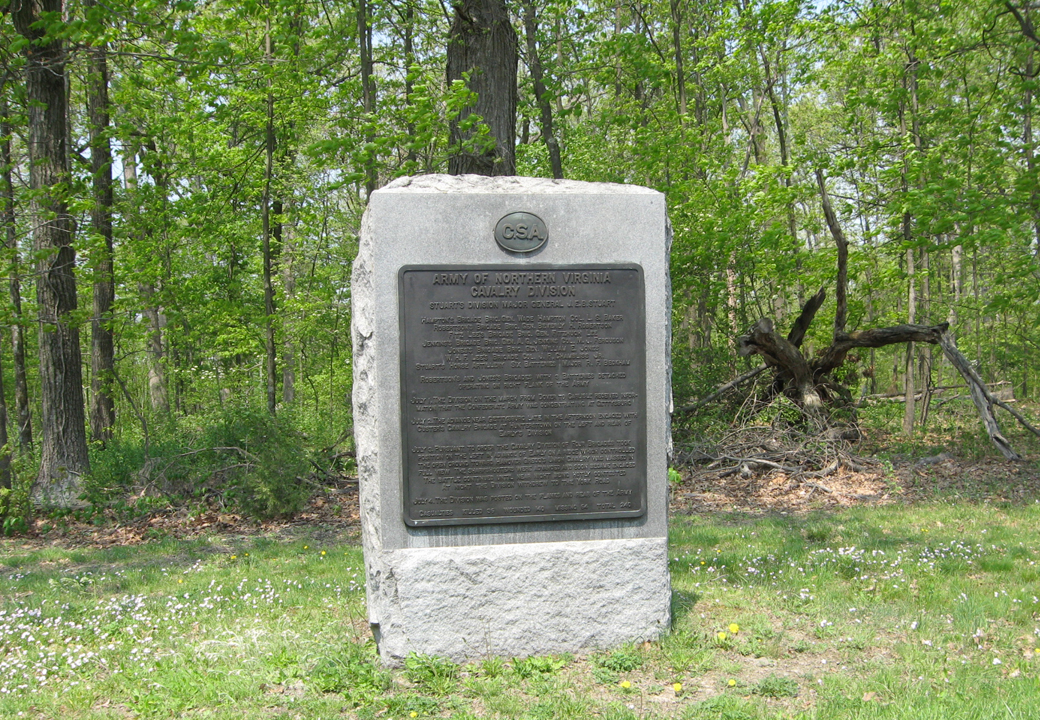 From the monument:
Army of Northern Virginia
Cavalry Division
Stuart's Division Major General J. E. B. Stuart
Hampton's Brigade Brig. Gen. Wade Hampton
Col. L. S. Baker
Robertson's Brigade Brig. Gen. Beverly H. Robertson
Fitz Lee's Brigade Brig. Gen. Fitzhugh Lee
Jenkins' Brigade Brig. Gen. A. G. Jenkins
Col. M. J. Ferguson
Jones' Brigade Brig. Gen. William E. Jones
W. H. F. Lee's Brigade Col. J. R. Chambliss Jr.
Stuart's Horse Artillery Six Batteries Major R. F. Beckham
Robertson's and Jones' Brigades with 3 batteries detached operating on right flank of the Army.
July 1. The Division on the march from Dover to Carlisle received information that the Confederate Army was concentrating at Gettysburg.
July 2. The advance near Gettysburg late in the afternoon engaged with Custer's Cavalry Brigade at Hunterstown on the left and rear of Early's Division.
July 3. Pursuant to order the Cavalry Division of four Brigades took position on the left in advance of Early on a ridge which controlled the open ground toward Hanover. Gregg's Union Cavalry was massed in full view. The sharpshooters were advanced and soon engaged. The battle continued until near night being hotly contested. At night the Division withdrew to the York Road.
July 4. The Division was posted on the flanks and rear of the Army.
Casualties Killed 36 Wounded 140 Missing 64 Total 240