---
Union monuments at Gettysburg > Pennsylvania > Infantry 
---
There are two monuments to the 148th Pennsylvania Volunteer Infantry Regiment on the Gettysburg battlefield. The 148th Pennsylvania's main monument is in the Wheatfield along Ayers Avenue. (Ayers Avenue – Wheatfield tour map) A smaller monument along Hancock Avenue was erected in 1901 that shows the regiment's position in support of artillery batteries after the evening of July 2. (Hancock Avenue Part 1 tour map)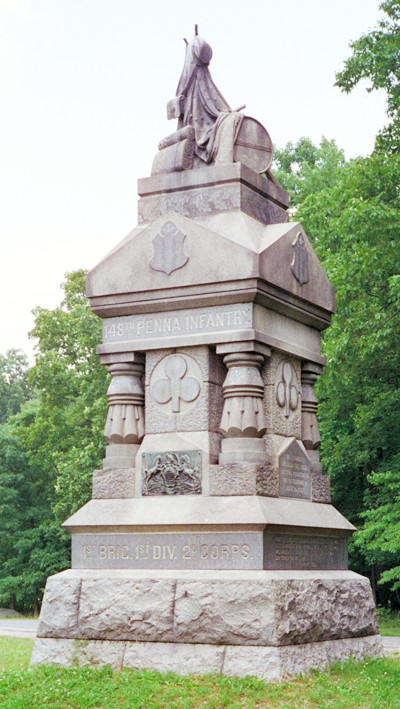 The 148th Pennsylvania Infantry at Gettysburg
The commander of the 148th Pennsylvania, Colonel James Beaver, was on sick leave during the Battle of Gettysburg. On June 30th brigade commander Colonel Edward Cross took the unusual step of temporarily transferring the commander of the 81st Pennsylvania Infantry, Colonel Henry B. McKeen, to command the 148th. Knowing a big battle was coming he felt the regiment needed a firmer hand than its inexperienced Lieutenant Colonel Robert McFarlane, especially since the 148th represented half the strength of his brigade.
McFarlane would still take over the regiment on July 2 when Colonel Cross was mortally wounded and Colonel McKeen took command of the brigade as senior surviving colonel.
Main monument to the 148th Pennsylvania
The granite monument is just over 14 feet tall. It is capped with a carved set of military equiment, including a drum, knapsack, rifle and canteen, all draped with a flag. The trefoil symbol of the Second Corps is on the center of each side between short, fluted columns, and a brass tabet of the Coat of Arms of the Commonwealth of Pennsylvania is on the front. The monument was dedicated by the State of Pennsylvania on September 11, 1889.
From the front of the Wheatfield monument:
148th Penna. Infantry
1st Brig. 1st Div. 2d Corps
From the left side of the monument:
The Regiment
engaged the enemy
on this position in
the afternoon of
July 2nd 1863.
Present at Gettysburg 468 offices and men
Killed and died of wounds 2 officers, 25 men
Wounded 5   "   88   "
Captured or missing 5   "
Total 125
From the right side of the monument:
Recruited in
Centre, Clarion, Indiana
and Jefferson Counties.
Organized September 1, 1862.
Mustered out June 1, 1865.
Total enrollment 1370
Killed and died of wounds, 13 officers 190 men
Died of disease, etc. 4  officers 170 men
Wounded, 28 officers 512 men
Captured or missing, 4 officers 168 men
Total 1089
From the rear of the monument:
Chancellorsville, Cold Harbor,
Gettysburg,    Petersburg
Auburn,    Strawberry Plains
Bristoe Station,    Deep Bottom
Mine Run,    Reams' Station
Wilderness,    Petersburg
Spotsylvania,    Hatcher's Run
North Anna,    South Side R.R.
Totopotomy,    Farmville
Appomattox.
Location of the main monument to the 148th Pennsylvania Infantry at Gettysburg
The main monument to the 148th Pennsylvania is south of Gettysburg in the Wheatfield on the west side of Ayers Avenue just as it turns into the woods, about 225 yards south of Mummasburg Road. (39°47'45.5″N 77°14'31.1″W)
Position marker for the 148th Pennsylvania Infantry
From the Hancock Avenue monument:
148th Regiment
Pennsylvania Infantry
1st Brigade, 1st Division 2d Corps
Occupied this position July 3 1863
Location of the position marker for the 148th Pennsylvania at Gettysburg
The position marker to the 148th Pennsylvania Infantry is south of Gettysburg on the west side of Hancock Avenue about 0.2 mile north of United States Avenue. Hancock Avenue is one way northbound. (39°48'19.6″N 77°14'05.4″W)