---
Monuments to Individuals at Gettysburg
---
The monument to Colonel George Willard is south of Gettysburg in Plum Run swale between the State of Pennsylvania Monument and the Codori Farm. (39.80635° N, 77.238975°W; map) The granite monument is about four feet tall.
It was erected in 1888 by the survivors of the 125th New York Infantry Regiment. Colonel Wilard had commanded the regiment until a week before Gettysburg when Brigadier General Alexander Hays was promoted to division command and Willard took over the brigade as senior colonel.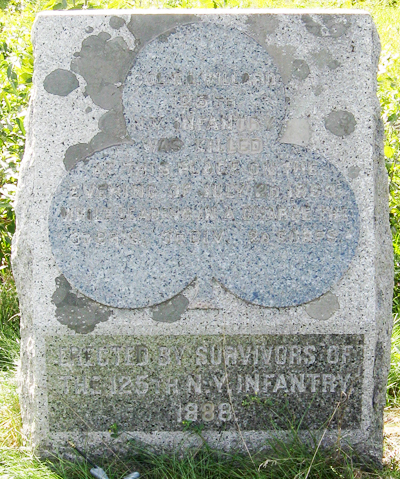 George Willard was the son and grandson of generals. He had served as an enlisted man in the Mexcian War, received a commission in 1848, and was a captain in the 8th United States Infantry at the outbreak of the Civil War.
Promoted to major of the 19th U.S., he took leave to become colonel of the 125th New York. A month later and they were surrendered at the Union debacle at Harpers Ferry, earning them the nickname of the "Harpers Ferry Cowards."
The brigade was paroled, and exchaged after spending a miserable winter in a Union prison camp. Genral Hays rebuilt their shattered morale, and by Gettysburg they were spoiling for a chance to erase their bad name.
On July 2nd Willard led the brigade in a counterattack against Barksdale's Mississippi Brigade, who had punched a half mile deep hole in the Union lines. Shouting "Remember Harpers Ferry!" the brigade threw back the Mississippians, recaptured several Union cannon, and mortally wounded General Barksdale. It was doubly sweet revenge, as the Missippians had been one of the brigade's foes at Harpers Ferry.
But Willard was also killed, struck in the head by an artillery shell as the brigade was pulling back to Union lines. His body was carried to a farmhouse on Taneytown Road, where it was wrapped in linen and sent home for burial.
Colonel Eliakim Sherrill of the 126th New York took over the brigade until he, too, was killed the following day during Pickett's Charge.
In the words of their division commander, General Hays, "The history of this brigade's operations is written in blood… the acts of traitors at Harpers Ferry had not tainted their patriotism."