---
Gettysburg Farms & Buildings • Thompson House • Thompson House Interpretive Trail
---
The Fighting and Photographs wayside marker is one of five on the grounds of the Thompson House, known as Lee's Headquarters, on the north side of Chambersburg Road (US 30) on Seminary Ridge. (39°50'05.7″N 77°14'41.8″W; map)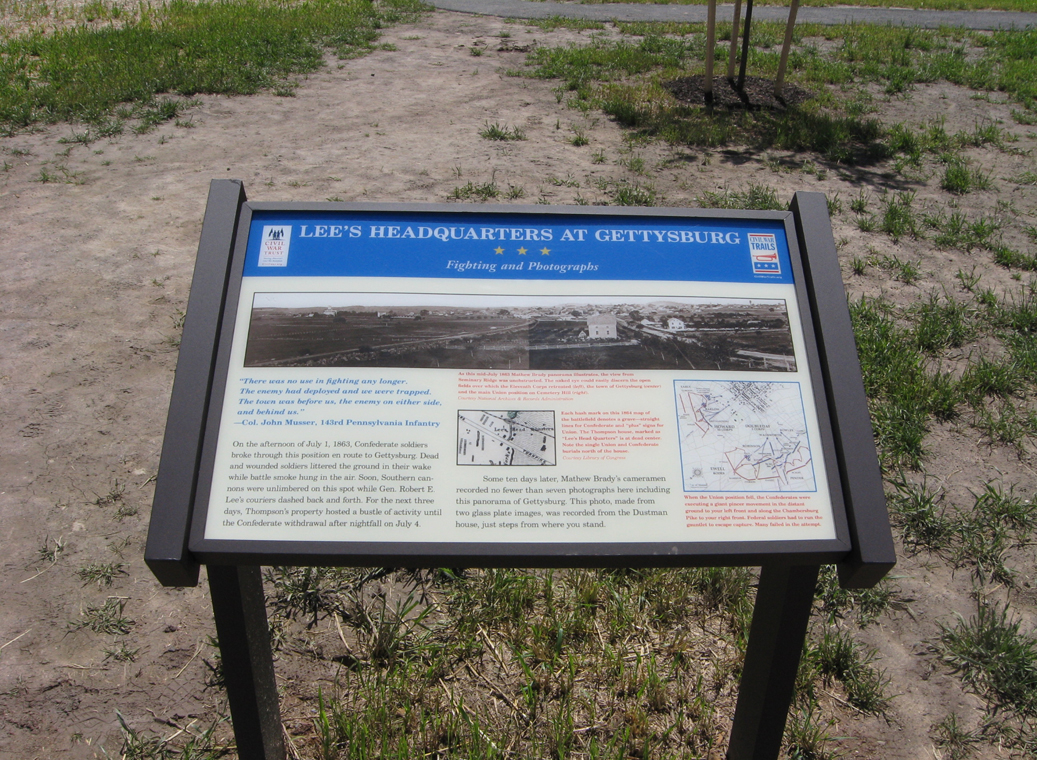 From the marker
Lee's Headquarters at Gettysburg
Fighting and Photographs
"There was no use in fighting any longer. The enemy had deployed and we were trapped. The town was before us, the enemy on either side, and behind us." –Col. John Musser, 143rd Pennsylvania Infantry
On the afternoon of July 1, 1863, Confederate soldiers broke through this position en route to Gettysburg. Dead and wounded soldiers littered the ground in their wake while battle smoke hung in the air. Soon, Southern cannons were unlimbered on this spot while Gen. Robert E. Lee's couriers dashed back and forth. For the next three days, Thompson's property hosted a bustle of activity until the Confederate withdrawal after nightfall on July 4.
Some ten days later, Mathew Brady's cameramen recorded no fewer than seven photographs here including this panorama of Gettysburg. This photo, made from two glass plate images, was recorded from the Dustman house, just steps from where you stand.
From the caption to the main photo at top:
As this mid-July 1863 Matthew Brady panorama illustrates, the view from Seminary Ridge was unobstructed. The naked eye could easily discern the open fields over which the Eleventh Corps retreated (left), the town of Gettysburg (center), and the main Union position on Cemetery Hill (right). Courtesy National Archives and Records Administration
From the caption to the small inset map at center
Each hash mark on this 1864 map of the battlefield denotes a grave – straight lines for Confederates and "plus" signs for Union. the Thompson House, marked as "Lee's Head Quarters" is at dead center. Note the single Union and Confederate burials north of the house. Courtesy Library of Congress
From the caption to the map at right
When the Union position fell, the Confederates were executing a giant pincer movement in the distant ground to your left front and along the Chambersburg Pike to your right front. Federal soldiers had to run the gauntlet to escape capture. Many failed in the attempt.