---
Union monuments at Gettysburg > Wisconsin
---
The monument to the 3rd Wisconsin Volunteer Infantry Regiment is southeast of Gettysburg on Colgrove Avenue south of Spangler's Spring. (Spanglers Spring tour map) It was dedicated by the State of Wisconsin on June 30, 1888.
About the monument
The granite monument stands 17′ tall and is similar in design to the 5th Wisconsin. Most of the monument is rough hewn, with a section of polished finish above the base which has inscriptions on the front and sides. The five-sided star at the top of the monument is the symbol of the Union Twelfth Army Corps.
The 3rd Wisconsin Infantry at the Battle of Gettysburg
The 3rd Wisconsin Infantry was commanded at the Battle of Gettysburg by Colonel William Hawley, a Madison furniture maker and veteran of the Mexican War. It brought 260 men to the field.
The regiment built breastworks at the location of the monument on the morning of July 2nd but in the late afternoon were ordered to reinforce the Union left flank around Little Round Top and left the position. When they returned that night Confederates has occupied the works. The regiment recaptured the position at dawn and held it for the rest of the battle.
From the front of the monument:
3rd. Wis. Vol.
This regiment went into position on the part of the line on the evening of July 1st. On the evening of the 2d it moved to the left to reinforce the 3d Corps; returned to this position the same night and remained until the morning of July 5.
—-
Mustered into U.S. Service July 27, 1861.
Mustered out July 16, 1865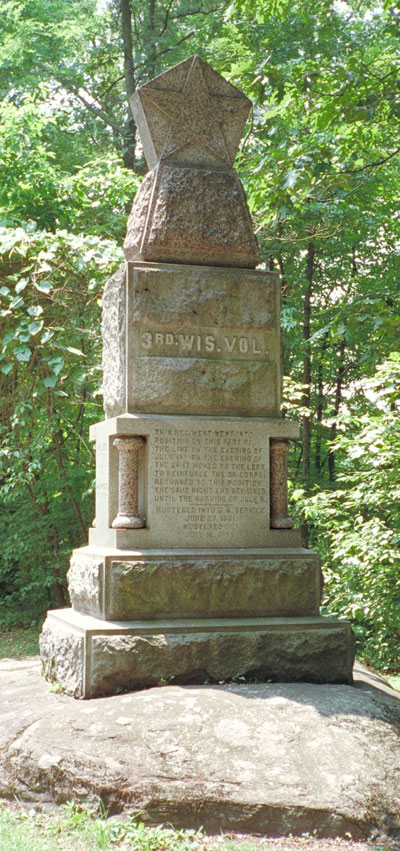 From the left side of the monument:
3rd. Brigade
1st Division
12th Corps.
From the right side of the monument:
Killed 2
Wounded 8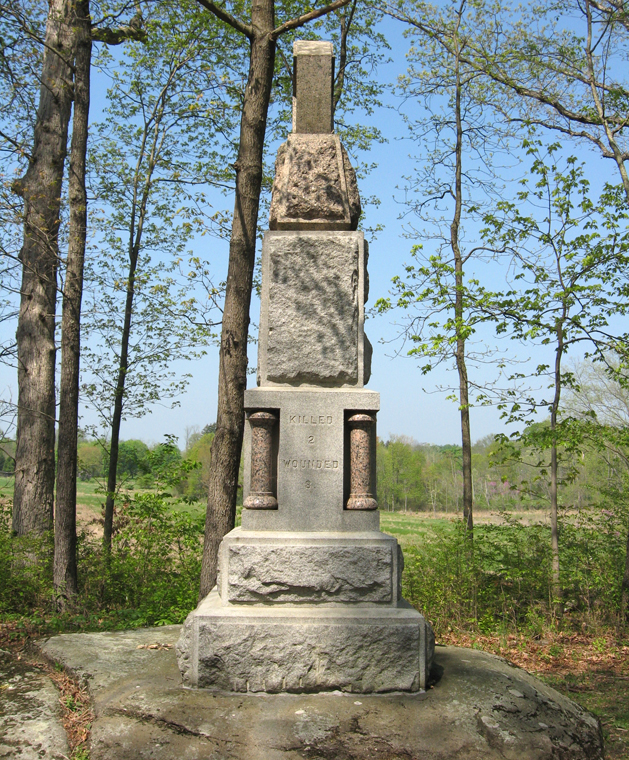 Location of the monument to the 3rd Wisconsin at Gettysburg
The monument to the Third Wisconsin Infantry is south of Gettysburg on the west side of Colgrove Avenue about 45 yards north of where it splits with Carmen Avenue. Colgrove Avenue is one way north and east. (39°48'45.0″N 77°12'57.5″W)
See more on the history of the 3rd Wisconsin Volunteer Infantry Regiment in the Civil War